Testimonials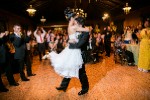 Cat + Terry
Ingrid captured every moment of our engagement session and special day perfectly! She's very thorough, thoughtful, professional, fun and creative. She's super friendly and genuinely cares about the bride & groom and goes out of her way to make sure we're happy. For our engagement session, Ingrid was so kind to reschedule our session for a better weather day so we could have fun biking around the city! She's always very sensitive to our needs and wants and knew our very complicated wedding ceremonies very well (we had 3 ceremonies within two hours!). We and our family/friends all absolutely love each pictures and get to re-live our special day every time we look at them! We highly recommend her and are very grateful for her! Thanks Ingrid! We couldn't have a better photographer!!!!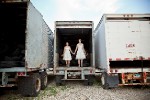 Maria + Tracy
My partner and I had a commitment ceremony this summer and Ingrid was the perfect photographer for us. She took the time to meet with us and talk about what we wanted - and even wandered around the site with us to find some pretty awesome locations for shots. She is highly professional and responsive, yet fun and energetic. We felt really comfortable with her, even as neither of us like being the center of attention. Oh, and she took the best pictures of our dog EVER! So if you want to have a photographer that you can have a good time with and still end up with amazing photos, go with Ingrid.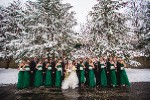 Ann + Denny
I honestly don't know where to begin. Ingrid was easily the best decision we made for our wedding. Ingrid has been the wedding photographer at two of my best friends' weddings as well as my own and each time I am blown away with her work and her professionalism. I literally have yet to see better pictures than the ones she takes. But on top of it all, you get to work closely with Ingrid and that is worth it all on its own. From the moment you meet Ingrid, you feel like you're hanging out with your lifelong best friend. I mean, there's a reason three girls in our group of friends hired her. We are in love with Ingrid and her work. Ingrid is able to not only get your standard wedding shots, but she's really able to capture what the day felt like and what matters most to the two of you. She takes the time to get to know you as a couple so her pictures meet your needs. She's flexible and she has an incredible eye. Planning a wedding is tough. But at the end of the day, your photographer is the only one you really work with once the wedding is done. Flowers die, your cake gets eaten, but you'll have your pictures for the rest of your life. You need someone who knows what she's doing and you can trust with this huge responsibility. Ingrid is that person, hands down. I plan on hiring Ingrid for any other major event in my or my family's life because I trust her that much. I cannot stress enough how highly I recommend her.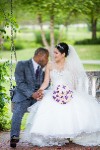 Aki + Chris
Truly one of the best wedding photographers out there, she loves her job and she's so talented at it. My wife found her and she as been in our lives ever since. Oh and did I mentioned that she truly loves her clients and appreciate their business. Ingrid is truly super talented and her work speaks for itself. She works non stop to produce the best quality pictures for all her clients and I can vouch for that. P.s. My wife is very happy with her work and that's a big plus in my book.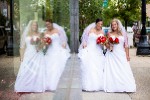 Lauren + Serina
Planning a wedding felt more complicated and challenging than completing grad school - kidding aside. One of the smartest choices my wife and I made was to hire Ingrid as our photographer. From the moment we met her and began the process of planning the photography for our event, we agreed that Ingrid was a truly remarkable, one of a kind human being. We felt so well taken care of during our event, we knew that every magical moment would be captured. Ingrid and her assistant for the day, Heidi, were professional, kind, courteous - downright AWESOME all day and night. Our September wedding was exactly how we had planned - and we have it ALL documented in the stunning photos Ingrid provided us.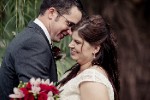 Jessica + Chris
Ingrid is an amazing artist and was such a wonderful person to have shoot our wedding. She is such a cool lady with a great sparkling personality that is calming but still high energy and professional but also super fun. She made both my fiance and I feel at ease and was able to pull a lot of our personality out for pictures. Which is NOT and easy feat since we are both super camera shy. The day of the wedding she worked her tail off and a lot of my guests commented on how great she was and how hard she and her other shooter were working. She also chose a second shooter who seemed to compliment her style and also had great input of her own as well. We got the images this week and we were floored. Even the ones that I felt weren't flattering of us were beyond beautiful from a photography standpoint which I loved. I really felt she was able to capture the moment and be true to my husband and I. The coloring in the images were intense and just beautiful. She is seriously an artist and a magician with bringing out the best in people. Everyone who has seen the pictures has loved them. And there have been a ton of comments about the fact that she sets the bar on the highest level in terms of wedding photography. Thank you Ingrid for capturing our wedding day and giving us the gift of wonderful memories in print.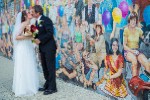 Beth + John
I can't overestimate how important the photography at my wedding was when planning. This was THE most important part to me. Not only because I am myself a photographer, but because I know that this is the only thing you will have left of the day, aside from memories. So, with that in mind, I spent a lot of time researching. I met with both the large companies that assign you one of their many photographers, as well as many independents. I dragged my then fiancé to every meeting to his constant protests that each one was fine, and he couldn't tell the difference. Well I could, and I wasn't satisfied with what I was seeing. None of the larger outfits could guarantee me the perfect match, and while I liked some of the independent work, it was insanely expensive. By the time I found Ingrid Bonne, a referral from a referral, my fiancé had decided he could no longer join me on these expeditions all over town, as he didn't understand what I was looking for. When I met Ingrid, I knew I had found it. That "it" - that intangible quality that you only know when you find it. We had the perfect meshing of personalities and visions. And once I found "it", I was willing to pay for "it", too. The engagement shoot was a hoot, and my fiancé was starting understand why I held out. Now that we have actually gotten married and seen the photos, he totally understands. The work is exquisite, the colors pop, they are so fun to look at and literally relive the moments that are now captured forever. If you are looking for a photographer that is more than the average "smile and say cheese", Ingrid is the way to go.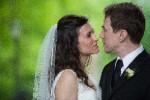 Sarah + Michael
Ingrid and her team were start-to-finish amazing. We planned our Chicago wedding from NYC, where we live, and Ingrid was helpful and responsive every step of the way. We always felt we were in good hands. She met with us when we arrived in town the week of the wedding to check out the venue and make sure she understood what we wanted, and on our wedding day she even brought an extra assistant to make sure everything went smoothly! If her photos weren't so gorgeous, I'd say Ingrid's attitude was the highlight of working with her - she was genuinely happy and excited for us the whole day. And (the crucial point) our photos are INCREDIBLE - despite a rainstorm and miscellaneous reception drama, she made everyone look great, especially us! I truly can't recommend Ingrid highly enough. She's a star.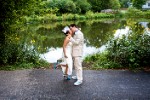 Tracy + Michael
We could not be happier that we chose Ingrid Bonne to photograph our wedding. Ingrid made the entire process so simple. She takes time to discuss your likes and dislikes and really uses the info you give her to capture your day the way you envision. She has an AMAZING eye for detail and I was wowed as I looked through my wedding photos and realized she had shot many moments we missed on the big day. Neither my husband nor I had been in front of the camera much before we began working with Ingrid and she truly helped make us feel comfortable and provided guidance to make each shot beautiful. Ingrid is a true professional and her years of experience are reflected in each picture. She makes the entire experience fun and memorable while taking the stress out of a hectic day! Our friends and family are still raving about her stunning work! If you're looking for the best, look no further!!!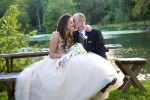 Stella + Tom
As a wedding gift to my sister and my future brother in law I hired ingrid bonne photography to shoot their wedding in Indianapolis this September. I was referred to Ingrid by several brides and I knew from the moment I saw her portfolio that she was the perfect choice for the job. Ingrid and I both live in Chicago and she was gracious enough to travel to Indianapolis to meet with me and my sister to view the wedding site and discuss her plan for the big day. The 200+ person outdoor wedding was being held on the Indianapolis waterfront and it took a monumental effort to create the elegant and personal touches so it was imperative that we chose just the right photographer to capture every special detail. During our numerous conversations Ingrid was extremely professional and so helpful in explaining her plan to accommodate our needs. She arrived full of smiles and energy on the big day and it truly felt as though she was part of our family as she began shooting all the madness of hair and makeup. Throughout the the entire event she was right there taking photographs of everything from the custom handmade table linens to the docked paddle boats and making everyone smile wherever she went. She even had the genius idea to bring a huge tub full of hilarious sunglasses and dress up props for all of us to take silly photos with towards the end of the night! It was absolutely the icing on the cake! When Ingrid sent the photos following the wedding they completely took my breathe away, they were beyond stunning. My sister was almost in tears when she called to tell me that this had been the best wedding gift anyone could have ever given them! I cannot say enough good things about Ingrid and her team! I would recommend her to absolutely everyone, she is gracious, professional, extremely talented and a pleasure to work with. She captured the memories that will last a lifetime.